---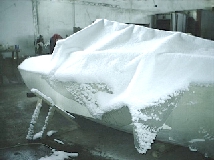 There is a broken window on the roof. Too much stormy in Turkey today. My boat is under the snow. But no problem. There are not uncoated woods on the boat.
05/01/2002
---
The melting was finished with the help of my good friends.
Persons and their tasks: Medical surgeon (transporting lead with his hands). Architect (administration and technical development). Mechanic engineer (inspection). Computer operator (to put forward good ideas) . Graphic designer (worker of casting). Bus driver (to strike lighter). Welding operator (heater with flame). Worker (working). And one child (learning works).
We used oxygen heater and hand made cruciblel. We worked all together half hour. Thanks to all..
This is Hi-tech crucible.
---
My father
My father worry about for I can not buy a outboard motor. So he is building a big paddle for my boat. And he said to me. "Perhaps You will use it, only in windless days for approaching ports. When there is a wind, then you must sail...." He is a old skipper and competent artist.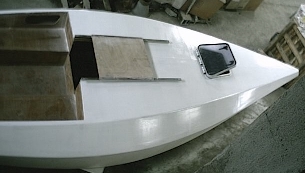 Middle paint, for understanding mistaken areas.
---
Melting test, with propan heater gun.
---
Really, I saw a good solution for hatch in the original plan. It look very safety for water leak. Somehow, I think many another ways for building hatch. Suddenly I decided one of them. I changed hatch design of boat. I bended stainless steel sheets with hydrolic bending press in a steel workshop. I fixed it, with epoxy putties and some bolts. My opinion, It has been a good work. There are not some parts that is inside of entry. So I used maximum wide of enterance. Because I am tall...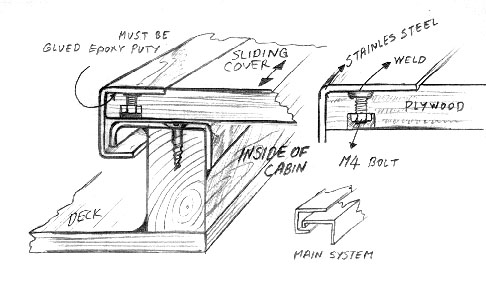 ---
Trapezoid hatch from BOFOR (MADE IN TURKEY)
---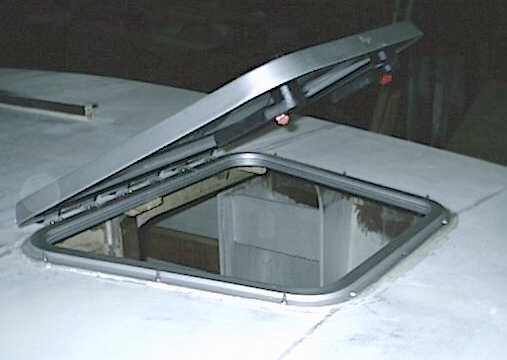 Mounting of hatch with caulk
.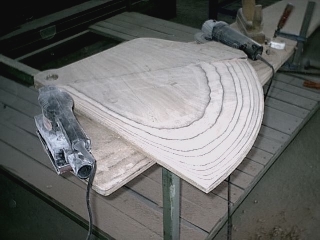 This is an oyster..! I started shape to CB plate with grinder tool and orbital sander. I used approximately NACA form. my painter looks
---


Real great day..! She is upright position again...
---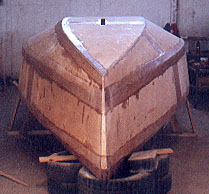 The great day..! I turned my boat in september. There are some past photos, in the down area of page. .
October 2001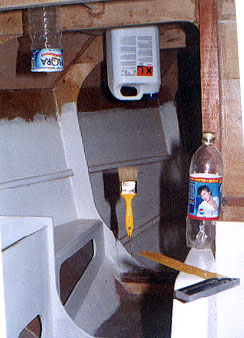 Am I a drunk.?. The cabin is very funny. There is incomprehensible gravity inside of my vagabond
---
PRECEDING GRADES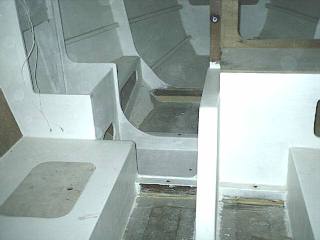 Epoxy Primer paint (Turkish made)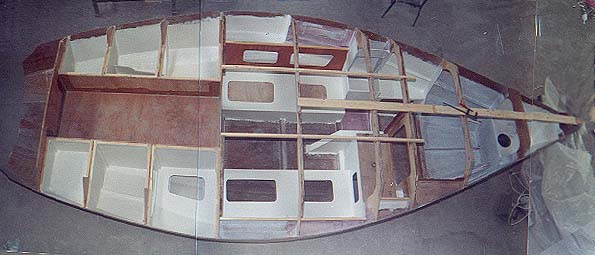 I saw a window on top of the factory. That window belonged an empty room. I went to that room. And I opened window. I saw from window with bird eye. My building looks good and I take photos. Sometimes I look that window to my boat and I see her developing grades.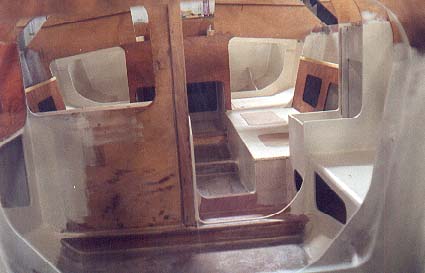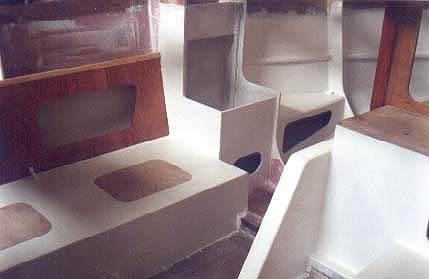 I changed inner design of headroom. I did not built V bert. But I builded some stiffener for front cabin. That woods reinforced sides of boat.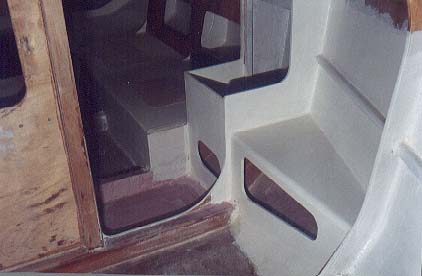 ---
They said to me...
"Habib has challenged us to a race either in Turkey or California next year. Who wants to join us?" Justin Pipkorn / (Vagabond builder from California) Project Just Right His boat is on the sea.
" Don't worry about your Englisn, I make my share of mistakes too. Your pictures speak for themself, the boat looks great." Jacques Mertens / (Designer of Vagabond's and many other boats) bateau.com
"I wish fun and patience for the next hundred hours. Güle, güle!" Matthias Krebs (Vagabond builder from Germany) His boat building is going paralell with my boat.
"Your boat looks great - good luck with the building!" Teemu Jaentti (Vagabond builder from Finland) Nasu is on the sea. Nasu's photos
"And congratulations to Habib for rolling his back upright !." John Hoaglund  (Vagabond builder from USA)
"Cok guzel boat... I see the pictures of your boat. You will have a very beautiful boat. Congratulations." Gheorghe Tolan (He is my friend. From Targu Mures / Romania. And he created paperego project. This is his home page.)
"Some of the readers seem to show interest in your roller furling plans, and I saw Jacques asking if the could post it in his site... I Maybe I can help........to translate theme and send......" Gilad Barak (Amateur boatbuilder from Israel and his boat is on the sea) My Roller Furling System (Gilad..! Thanks for your help)
"You did a very nice job on your boat. Your english is good too. Thank you for sharing your pictures. Turkey must be a good country." Richard  (He is a person who I have not recognized yet. From Virginia / USA.)
---
Main page